Yield Guild, a social role-playing game with collectible cards, has bought assets in the blockchain and crypto scene. The game is looking to disrupt traditional gaming culture by introducing new models of monetization through cryptocurrencies.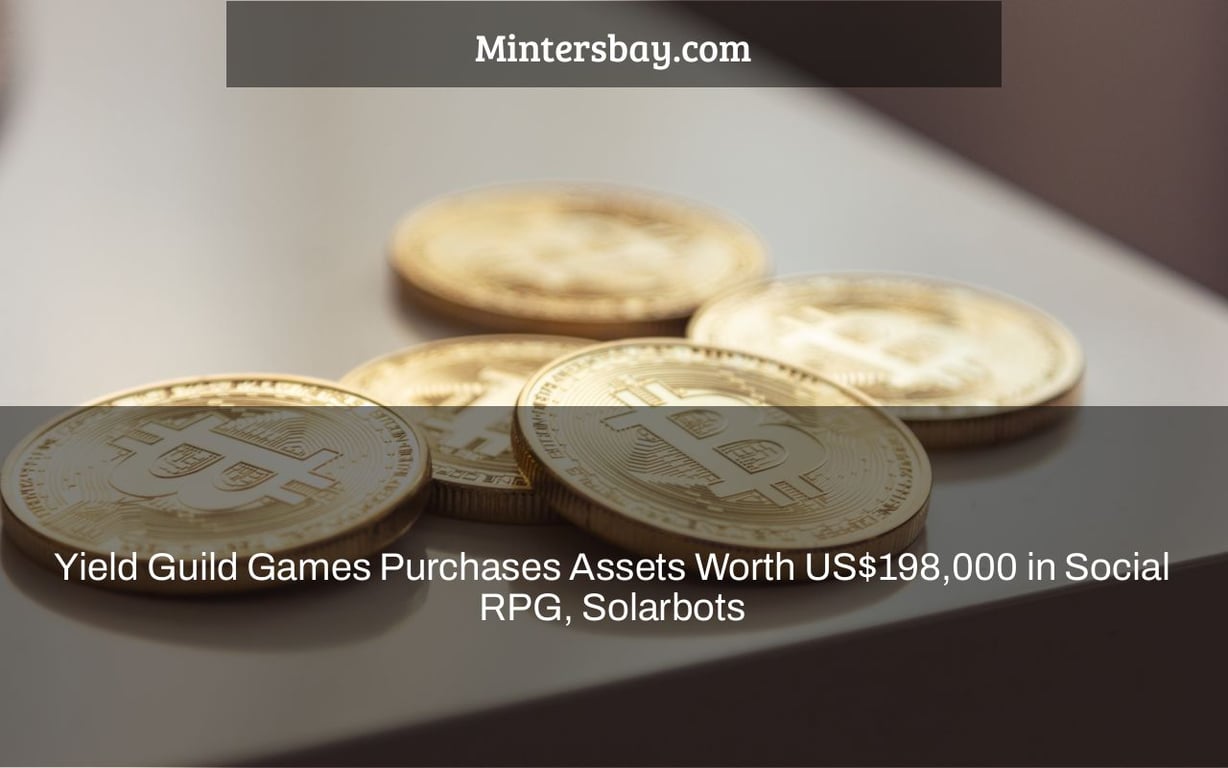 Solarbots is a social RPG that offers an immersive gaming experience by allowing players to take on a wide range of roles in several factions and put their abilities to use in a completely player-controlled and resource-oriented game economy. Solarbots, a blockchain-powered Metaverse experience, enables economic ownership and wealth creation in a world where like-minded people may connect, collaborate, and share a riveting tale.
Solarbots Mk. 400 have been bought by YGG. For US$198,276 I purchased fighting units for the YGG community to explore the continent of Eld, which is where the Solarbots Metaverse is based.
"Solarbots will provide an environment that rewards guilds like YGG by granting them authority over major percentages of the game economy and disperse benefits to all guild players," says Sarutobi Sasuke, YGG's head of partnerships. "The Solarbots team has done an excellent job combining robust tokenomics, and they intend to communicate a deeper tale via their lore-driven game," he said.
"YGG is the first and biggest guild to arise from blockchain gaming," says Solarbots co-founder Misotsune. Their abilities and values have enabled them to provide a new chance and empower many others, which exactly coincides with our way of thinking."
The Solarbots team aspires to create a stunning experience centered on a captivating and immersive tale that represents the human condition, as well as a strong social component and many methods to earn rewards.
Body components of Solarbots
Each faction's robots are known as Solarbots: Arboria, Illskagaard, and the Lacrean.
Empire. The factions provide only aesthetic variations in terms of Solarbot customisation.
enabling gamers to choose and select according to their preferred style. In order to engage in the PVE and PVP game types, players will require a squad of four Solarbots from one of the three factions. Solarbots offers a variety of methods to play and engage in the game economy, including PVE, PVP, Gathering, Crafting, Guilds, and Landlordship.
The basic concept behind establishing such an ecosystem is to mix aesthetically beautiful configurable elements with interesting gameplay and a token economy that feeds the community. When playing these modes, players may expect to get SOLS (Solstones) and other tokens or NFTs such as crafting recipes or uncut gems.
Most gaming operations, such as upgrading, crafting, rerolling stats, creating sockets in body parts, and maintaining the player housing units of the Solarbots, need and burn SOLS. Aside from those uses, SOLS are also used to power houses, cities, and are an important element of other magical rituals, including but not limited to making. The SOLS token may also be used in the game's native marketplace.
Solarbots' PVE combat will emphasize strategic gameplay, with utility combinations allowing players to do many actions inside the game. The interactions of each group with the Monsters of the Abyss, which players must fight in order to obtain SOLS, will be the only method to experience the game narrative via the interactions of each faction with the Monsters of the Abyss.
At the end of Q1 2022, the Solarbots pre-alpha (without crafting or token economies) will be published. Solarbots will feature a competitive PVP and an open-world mode with an emphasis on player-owned territory after this launch.
Its Alpha version, which includes crafts and tokens, will be available in Q4 2022, while its Beta and, eventually, version 1 will be available in 2023 and beyond.
Check out Solarbots' website, whitepaper, Discord, and Twitter for additional information.
For more information, visit YGG's Discord or follow us on Twitter.